Home APPLIANCE GUARD REDUCED REVENUE PLANNING TIME BY 50%
specialist insurer 'Home appliance guard' now produce what if's in 10 minutes and looking at payback in less than 2 years using Adaptive Insights
Domestic appliance insurer Home Appliance Guard (HAG) found that Excel was becoming clunky and difficult to use. Excel was seriously slowing down their ability to forecast profitability.
With a new acquisition, fast growth and an expanding product portfolio they needed to be able to model across pricing, staff numbers, product mix and sales per hour.
Initially finance controller Anthony Ridgwell wasn't convinced they needed anything more than Excel, but the complexity added by more than one company, more products and a demand from the management team to be able to model across more dimensions led him to the conclusion that Excel wasn't fit for the job anymore.
Greater visibility of the numbers with a single source of truth from which to model on the fly have been some of the benefits HAG have seen.
Read the Case study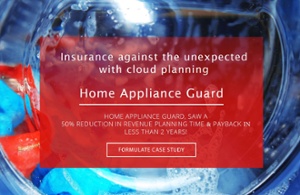 This case study shows that even companies on the smaller end benefit from more flexible forecasting tools. Finance controller Anthony Ridgewell agrees that it's complexity rather than size which drove HAG's decision to look at an alternative to Excel.
Take a closer look and Download the Home Appliance Guard case study to learn more about their implementation story and their pain points which led them to choose Formulate as their Adaptive Insights partner.