Find out how to transform your financial planning in just ten days. Sounds impossible right? It's not. Read our customer case study and find out how you too can transform your organisation and achieve hero status, with a little help from Formulate or course.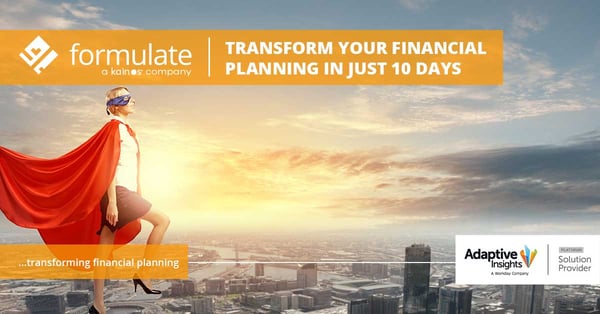 Client Overview
Our customer is one of the world's leading risk and intelligence consultancies. Working on a global basis the intelligence consultancy employs experts and advisors around the world, serving clients in all major regions and sectors.
The intelligence consultancy provides class-leading methods with expertise and innovation to deliver outstanding results for its clients.
The intelligence consultancy works with many of the world's largest and leading organisations, including multinational companies and government agencies.
Client project expectations
A fully working budgeting and forecasting tool was required at speed, which included:
Uploaded chart of accounts replicating what the client operates in Workday
Setup of the company structure consisting of multiple business units and multiple cost and overhead centres
Month by month financials, including budget, forecasts and actuals for all General ledger
Full Profit & loss, with driver-based balance sheets and cash flow
All staff uploaded into service lines and cost centres
Ability to create multi-dimension what-if scenarios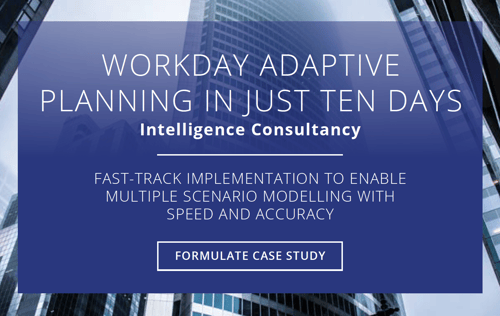 Rapidly changing landscape
In common with many businesses since the start of the COVID-19 outbreak, the intelligence consultancy identified the need to have something more robust than Excel for the purpose of financial forecasting.
As the epidemic unfolded, it was apparent that multiple scenarios would need to be analysed. Each would need to assess impact, not just on profit & loss, but balance sheet and cash flow too. These forecasts would need to be robust enough to present to, and discuss with the groups' stakeholders as required.
Operational within days
The intelligence consultancy needed a solution that could be operational within days, rather than than months. With such a short turnaround required, they initially investigated quick-fix options that would provide some of the functionality required that could be sourced off-the-shelf.
Off-the-shelf tools
After further investigation, the intelligence consultancy discovered that beyond their immediate requirement the off-the-shelf tools would not be fit for purpose by meeting their growing needs longer-term. They realised that they needed a more sophisticated solution, however one which would still have to be operational within ten days.
Integrated Forecast Pack
In the case of the intelligence agency, Formulate's 'Integrated Forecast Pack' was utilised, this included personnel modelling, sales tax, CAPEX together with a pre-built integrated balance sheet, profit & loss and cash flow model.
This provides the user with the control over their own plans, allowing for flex of debtor, creditor and stock days. In addition to a pre-built loan drawdown model, planning for the cash impact and resulting interest/repayment profiles for all types of loan structure.
Out-the-box solution
The 'Integrated Forecast Pack' provides an out-the-box best practice solution which can be customised and scaled to expand as required. It uses double entry bookkeeping principles to ensure a fully balanced model, with no balancing figures.
Fast-Start option
This particular pack can also include a 'Fast-Start' option which enables Formulate to add a customer's chart of accounts and organisation structure, giving a basic forecast in a handful of days.
Excel look and feel
Workday Adaptive Planning has a familiar Excel look and feel to the screens, it doesn't look unfamiliar, however, it takes away the constraints of Excel in all areas, with the idea that you're inputting into a grid but in a more robust and sophisticated way, you've got multidimensionality and a comprehensive reporting tool that will output into Excel so you can use your existing report packs.
About Formulate
Formulate - A Kainos company are one of the leading UK and European partners for Workday Adaptive Planning (Adaptive Insights). We build and improve forecasting solutions for existing and new users of Workday Adaptive Plannings. Our unique set of business pack solutions, alongside our extensive skills in finance, business and software deliver leading forecasting solutions.