With urgent deadlines and crisis to manage it's all too easy for CFO's to get pulled in different directions. We take a look at how CFO's can stay effective, reduce burnout and deliver clarity and direction in this time of need. The feature includes a printable self-assessment matrix.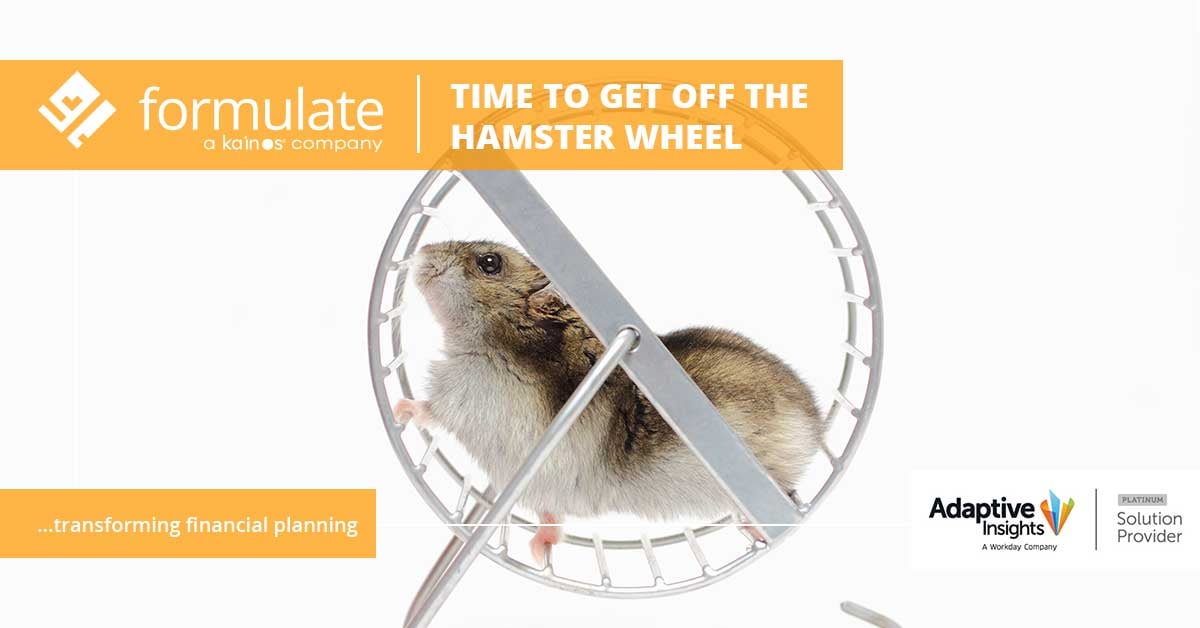 Rockstars under fire
With CFO's taking to the helm to steer businesses through unchartered waters, their experience, expertise and clarity in decision-making will certainly be earning their stripes. Right now CFO's are commonly referred to as 'Rockstars' or 'Superheroes' of the boardroom, as it is they who truly understand how their organisation is performing.
In our recent eBook, 'Reforecasting - Your Essential Guide Coming Out Of COVID-19' we discussed the need for CFO's to be able to make decisions much for frequently than ever before as market conditions change.
Cut through the noise
With the light firmly shining on CFO's right now, it is their clarity of thinking, the ability to cut through the noise and logic thinking that is needed right now. With such demand on their time, and expertise CFO's are being stretched more than ever with COVID-19 increasing workload.
Not only are CFO's under greater pressure to steer the ship, but with increasing 'noise' as the boundaries of work-life and home-life become blurred.
While CFO battles continue in the 'virtual boardroom' working at home has posed unforeseen challenges for many with the need to take on an extended role at home, such as teacher, carer, entertainer and chef to name a few. While these extended roles are not exclusive to CFO's the reality is that these new 'distractions', while important to maintaining family relationships can interfere with work activities and reducing overall effectiveness.
get the right balance
With a CFO's biggest asset is their mind, it is essential to have enough 'headspace' to remain concise and having a clarity of thinking that enables the 'Rockstars' to perform without missing a beat. With so many responsibilities on their plate, it is understandable that CFO stress levels are rising. Managing time is not as straightforward as it seems.
One of the negatives about stress is that it can distract us from reaching the goals that we set out to accomplish. During these times of uncertainty and crisis, even the most experienced professionals can forget about the necessary steps to remain focussed and effective.
Managing a crisis is a key part of CFO's role, however, this should only take up a small proportion of time, compared to effective activities that deliver business results. It is imperative to stay focussed as it is all too easy to get overwhelmed with pressing problems and tight deadlines set by others.
Where are we going?
Even the most experienced professional can fall into the hamster wheel trap inadvertently during COVID-19, with 'too busy' being a justifiable reason for not taking a holistic view when they are dealing with deadlines and crisis.
The reality is that when we fly too close to the sun, we can get burnt, or burnout. CFO's need to ask themselves the question of 'where are we going', what's the final destination.
The need to take to time and review current processes is essential for logical thinking and the ability to implement strategic change or preventative measures.
Greater Insights
In the case of finance right now there is a need for greater business insights, why? because the final destination is better decision making.
With so much change at the moment decision-makers need up-to-date insights on all elements of their business, be it cash forecasting, workforce planning or scenario planning to name a few.
With the need for more regular forecasting and rolling forecasts being increasingly adopted, this poses many new drains on valuable resources. Having to meet tight deadlines with tools that are being used over their design capabilities is stretching finance to the limit.
A forecast is only as good as the accuracy of the data, the speed of delivery and the insights that it brings. Failure in any of these areas can lead to crisis, with activities based around fixing issues rather than recognising opportunities and strategic direction.
Straight to the end
If we move forward to the end, CFO's need accurate, multidimensional insights that are always available which support effective decision making. They are not pulled into delivery issues as there aren't' any.
The chart below demonstrates the four quadrants of effective time management and how they interrelate with each other as a ratio of time.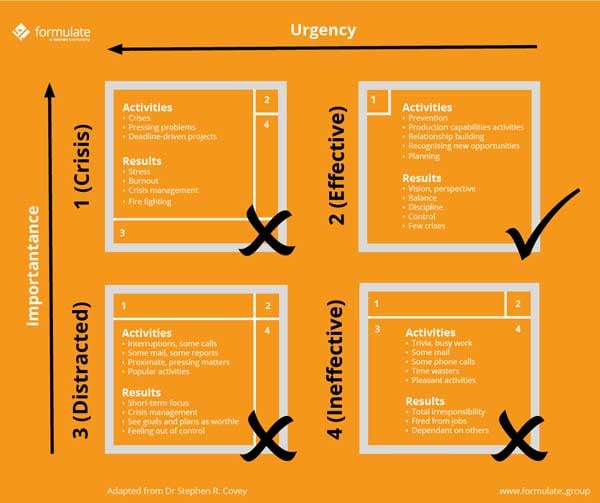 For example, the effective CFO is demonstrated in box two. As can be seen managing crisis is a part of the successful CFO's role, however, it only represents a small proportion of time, such as 5-10%.
Should crisis activities increase, so do the results from crisis, being stress, burnout and firefighting.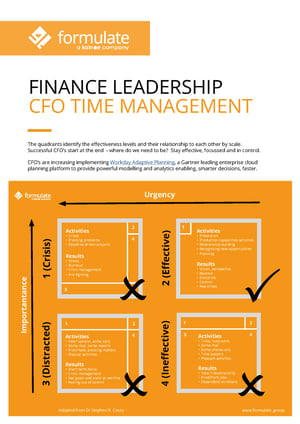 ---
About Formulate
Formulate - A Kainos company are one of the leading UK and European partners for Workday Adaptive Planning (Adaptive Insights). We build and improve forecasting solutions for existing and new users of Workday Adaptive Plannings. Our unique set of business pack solutions, alongside our extensive skills in finance, business and software deliver leading forecasting solutions.