Managing any uncertainty requires the ability to build flexible plans. There is a need for Finance leaders to be pro-active, and ready to manage the impact of change successfully.

So given that change is going to happen, is it enough to rely on Excel as the primary tool for planning and budgeting in 2020?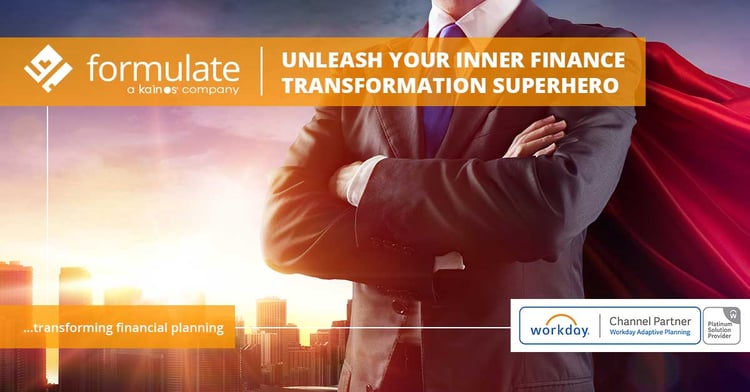 Where to Start
In a world where disrupters are reshaping the business landscape, we are constantly reminded for the need to be in a constant state of metamorphosis by reshaping ourselves to stay relevant. Disrupters highlight the requirement for change by creating a healthy tension in the market place and keeping the establishment looking over its shoulder.
With the need to stay agile and one step ahead of the competition organisations need to constantly look at how they can empower employees, increase customer engagement, optimise operations and transform their products or services.
In the case of finance, Excel has long been the tool of choice for decades. When first released it transformed the way finance departments worked. Many professionals may have worked their entire careers creating and managing spreadsheets purely in Excel, as it was 'go-to' and 'standard' product with a level of unhealthy acceptance with all its flaws and limitations.
Growth and complexity are demanding more analysis and insight from forecasting, and increasingly companies are making the decision to move on passed Excel. to native cloud solutions which are faster, more agile and easy to deploy.
To help you on your metamorphosis Formulate have created five key steps to help you on your digital transformation.
Five steps to kick start your Finance transformation
1: Create a Finance digital strategy
Your digital strategy for finance should start with building your digital dream, which comes down to identifying your desired business outcome. Your strategy will focus on how you can utilise technology to improve your business performance, on both a departmental and organisation-wide level.
Your strategy will include how the organisation will benefit and how new competitive advantages can be created with technology, as well as how to achieve these changes. Any change usually involves reevaluating business models, as new technology makes it possible for companies to adapt and become more agile.

As digital technology becomes more pervasive and companies move further in the journey of digital transformation, digital strategy and business strategy will merge.
In most cases, digital transformations do not start with an organisation-wide plan of change, but rather with a series of micro-revolutions. Micro-revolutions are small, quick projects that deliver positive business outcomes and accrue to the digital dream. Once complete, the company moves on to the next. It creates digital momentum.
Your strategy must begin with the end in mind and include a plan with clear outcomes.
2: Get buy-in and commitment from C-level leaders
You may have a great idea, but if the leadership team do not understand the initial problem then they won't buy into in the solution. On the path to buy-in it is essential not to make this seem 'your project' or a 'finance problem', but one that transcends the whole business and that reaches into all departments, right the way from sales to operations.
Buy-in can be accelerated by highlighting how a solution could specifically benefit a senior leaders area of the business as well as the organisations as a whole because they then have invested interests.
For example, a VP of sales that is motivated by increasing sales, margin and market share could to aided to buy-in if they can clearly see the business benefits and outcomes. A new FP&A cloud platform that enables the ability to create multiple remodelling scenarios using multiple data dimensions has many wide-reaching organisational benefits. For the VP of sales he able to quickly get insights on the outcomes of multiple scenarios and what-ifs, such as the effect of price increases or offers on bottom line or the outcome of increasing sales teams. All this leads to better decision making based on facts.
For operations, buy-in could be assisted by explaining how a new FP&A solution would be able to report on how individual projects are performing, down to a granular level. The benefit would be having a true and accurate view of how individual projects are performing so that costs such as recruitment, materials and labour can be monitored and analysed, aiding informed decision making.
Whoever needs to buy-in, a key element is to show the benefits of how joined-up data and data insights bring about informed decision making.
3: finance team Inclusion
It's important not to treat your finance revolution as just another tech project-instead, it's essential to ensure buy-in and an understanding from your own team as well as from c-level leaders.
For years finance teams have been at the back of the line when it comes to IT and technology. However, all that is now changing as Cloud FP&A software is able to bring together big data with integration to multiple finance platforms and data sets. It is now the time for finance departments to come out of the dark ages and to rise up with technology that puts them in the driving seat of business. A new world that provides them with an error-free holistic view of the business and limitless remodelling and scenario building without any of the limitations and frustrations of Excel.
The new generation of finance professionals are more data-driven, collaborative and questioning than ever before. It is becoming increasingly realised that if your organisation is not providing the 'right tools for the job' then the top talent will either move on or not work for you in the first place.
Informing and explaining the benefits to finance teams is not an overnight process. It's essential to make all team members feel included and that they have a voice and their input is valued. Seeing is believing - a great example of getting buy-in is to create internal workshops or sessions where questions and answers can be raised.
4: Create a digital culture
In addition to the process and technology, digital transformation requires an open mindset and the ability to change. The power of a team of positive influencers or 'champions' should not be underestimated as they can help with the transitions and 'own' elements of the project and lead from the front.
Making changes to company culture is at the heart of every successful digital transformation. In our increasingly digital world, digital culture cannot thrive if your company operates in silos with disconnected or under-connected business functions.
Promoting a digital culture is one of the key characteristics that define your company and, if promoted correctly, will attract not only empower employees but will help in the recruitment of new staff and retention of employees that share similar ethics.
To make a step-change in digital culture, CFO's should start thinking in a "boundary-less" way across your internal organisations. Your work needs to be measured with real data, and that data needs to be used to equip employees in ways that let them truly understand and serve their customers and other departments better. Learning from this data, your teams need to operationalise their shared accountabilities with processes that help other teams become more successful.
5: choose a PArtner with a proven track record
For many CFO's the mention of digital transformation brings about two main types of thoughts:
1: Strategic advantage - you know that investing in a Cloud FP&A solution is strategically the right thing to do for the benefits are immense, both for the organisation, the finance team, and your career.
2: Business disruption - you are fearful of the unknown as trying to quantify all project resources, process changes etc swells the project in your mind and puts off an active decision.
To quash fears of business disruption it is essential to get a true understanding of what is required to get the project up and running. To do this, good practice would be to speak a partner that has a proven track record and expertise in the area that you are looking at. Additional areas for consideration include:
What is their vendor partnership status - and what does it mean?
Look for experienced and customer focussed partners?
Find out more about recent projects and case studies?
Speak to some existing users about their experience?
Find out about their project delivery methodology?
Find out what the implementation time and potential disruption?
Are their consultant qualifications relevant to finance?
Download your free 20 page eBook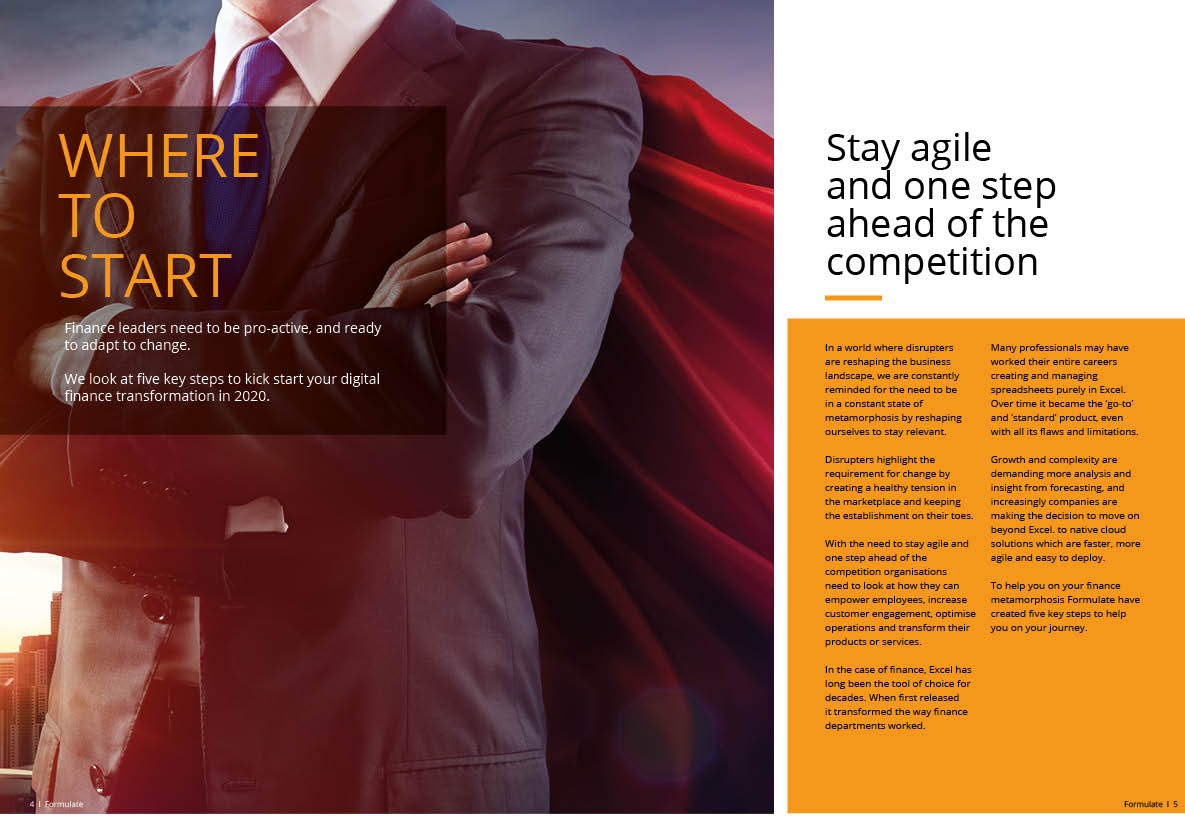 ---
About Formulate
Formulate - A Kainos company are leading UK and European partners for Adaptive Insights. We build and improve forecasting solutions for existing and new users of Adaptive Insights. Our unique set of business pack solutions, alongside our extensive skills in finance, business and software deliver leading forecasting solutions.