Formulate Adaptive Insights Platinum Solution Provider
Formulate are an Adaptive Insights Platinum Solution Provider, but what does that really mean? In this article, we take a look at what it takes it achieve the Platinum Solution Provider status and why choosing the right delivery partner will provide payback in dividends.
---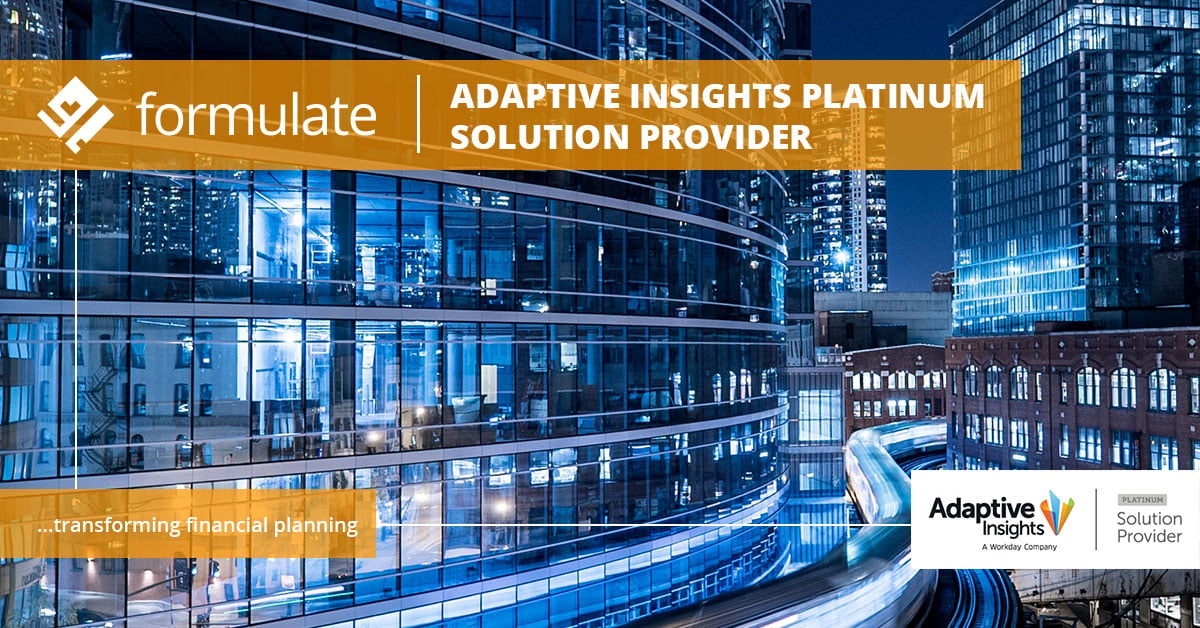 Adaptive Insights Partner Program
When selecting an Adaptive Insights Delivery partner it's essential to choose the right one, and truly understand their level of skills, experience and product knowledge as these all contribute significantly to the success and smooth delivery of a project implementation.
An important factor to consider is understanding the type of partner and their achievement level. The types of partners are:
1: Solution Providers
Solution Providers manage the end-to-end project needs of their clients—from initial sale to implementation to support and renewals. Solution Providers are well trained to deliver successful deployments, often have deep expertise in specific industries, and offer their clients both local and virtual support.
Solution Provider Partners are required to maintain a level of authorisation determined by a minimum number of certified staff and revenue.

Formulate are an Adaptive Insights Platinum Solution Provider, meaning that we have achieved the highest level of expertise and achievement through training, certification, and successful customer implementations.

2: Accredited Partners
Accredited Partners have attained expertise and achievement through training, certification, and successful customer implementations.
3: Services Partners
Services Partners deliver consulting and implementation services and can help in the deployment and ongoing adoption of new capabilities.
4: Software Partners
Software Partners are market-leading ERP, CRM, financial software, and technology providers. They integrate with the Adaptive Insights Business Planning Cloud.
It's all about the delivery
As the largest dedicated European Adaptive Insights partner and a Platinum Solution Provider Formulate have been transforming the financial planning of organisations across the world with our unique mix of accounting logic, IT experience and business savvy.
With accountancy qualified consultants, integration specialists, project management wizards and a ledger loving team we pride ourselves in delivering solutions with a personal approach. Formulate understand the value of Adaptive Insights is realised when delivered well, which is why we have invested in good people, developed a full project methodology and built ready-made solutions which deliver fast time to value to our customers.

Qualified people - finance, Adaptive and business qualified ready to deploy across Europe.
Agile for Adaptive Provides a phased delivery helping control time and resources.
Solutions - pre-built, packaged solutions can be customised, providing certainty, and reducing risk.
Extensive customer base
Formulate has built up an enviable customer base that spans multiple sectors, counties and continents. To date we have transformed the financial planning of over one hundred companies and organisations with Gartner leading Cloud planning software Adaptive Insights enabling then to better forecast, budget, analyse, consolidate and report.
Recent new business wins, including food delivery giant Deliveroo and Europe's leading veterinary care provider Independent Vetcare Group (IVC).
Find out more about what our customers say about us, their delivery and the organisational benefits Adaptive Insights has brought them.
---
About Formulate
Formulate are UK partners for Adaptive Insights. We build and improve forecasting solutions for existing and new users of Adaptive Insights. Our unique set of business pack solutions, alongside our extensive skills in finance, business and software deliver leading forecasting solutions.
Formulate are the largest dedicated European Adaptive Insights Partner
Adaptive Insights Platinum Solution Provider
We build planning solutions that deliver value fast
Accountancy qualified consultants deliver across Europe
Pre-built solution packs get you up and running fast
Integration specialists can connect your data from any system
Managed delivery using our Agile for Adaptive methodology ensures successful projects from start to finish with support all the way