Must Read Books For Finance Leaders This Spring
Modern finance leaders have a thirst for knowledge and self-development. Formulate have listed the top books that CFO's and finance leaders are reading this spring, including ratings and where to purchase online. We have also included some of the top eBooks that can be accessed for free.
---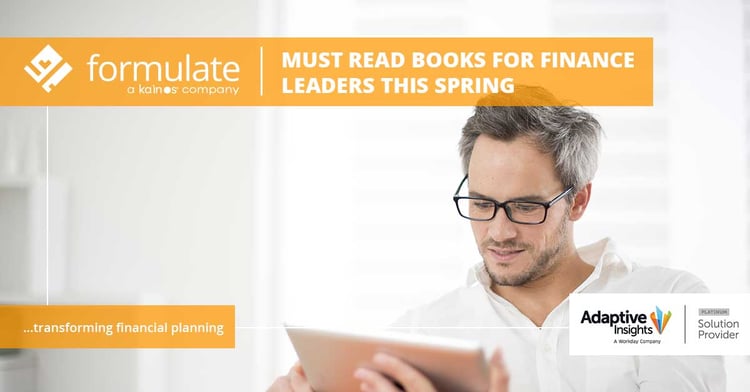 No matter how much finance or accounting experience you may have, there is always something new to learn about the ever-changing business world.
There are many secrets to the success of a modern finance leader, however, what most have in common is the endless thirst for knowledge, an inquisitive mindset and self-development.
Reading opens up the shared knowledge of mankind that reaches far beyond our day to day reach. No matter how many degrees and certifications you may have, books present us with the opportunity to learn more and continue our education.
"If you cannot read all your books…fondle them — peer into them, let them fall open where they will, read from the first sentence that arrests the eye, set them back on the shelves with your own hands, arrange them on your own plan so that you at least know where they are. Let them be your friends; let them, at any rate, be your acquaintances."

Winston Churchill
books to read this Spring
To make life easy we have listed the top books CFO's are reading this spring and put a handy link where you can purchase online. We have also included popular Formulate eBooks which you can download for free.
1. CFO a Complete Guide, by Gerardus Blokdyk.
Is there an employee handbook that is readily accessible? Are the organisations statements prepared per standards and audited? What led to the decision to consider outsourcing? Reasons why Organisations and CFOs need SaaS and Cloud Integration ? Are offshore outsourcing benefits sustainable?
Average 4.5 star rating
2. Marketing Is Finance Is Business: How CMO, CFO and CEO cocreate iconic brands with sustainable pricing power in the new Galactic Age, by Chris R Burggraeve.
The every day priority of CEOs is creating sustainable business growth. Focus on the bottom line, and on the top line. To make that happen, structurally connecting marketing better with finance is proving to be one the biggest challenges.
Average 3.9 star rating
3. Grow the Pie: How Great Companies Deliver Both Purpose and Profit, by Alex Edmans.
What is a responsible business? Common wisdom is that it's one that sacrifices profit for social outcomes. But while it's crucial for companies to serve society, they also have a duty to generate profit for investors - savers, retirees, and pension funds. Based on the highest-quality evidence and real-life examples spanning industries and countries, Alex Edmans shows that it's not an either-or choice - companies can create both profit and social value.
Average 5 star rating
4: Alchemy: The Surprising Power of Ideas That Don't Make Sense, by Chris R Burggraeve.
Why is Red Bull so popular – even though everyone hates the taste? Why do countdown boards on platforms take away the pain of train delays? And why do we prefer stripy toothpaste? We think we are rational creatures. Economics and business rely on the assumption that we make logical decisions based on evidence. But we aren't, and we don't.
Average 4.5 star rating
5: The 80/20 CFO: How to Make Strategic Transformations in Your Company, by Janice Berthold, Suzy Taherian.
What makes one CFO able to make lasting and sustainable transformations inside an organisation, whereas other CFOs struggle to make a difference? One of the biggest challenges for a new CFO is often there's not a job description. It's usually something vague along the lines of "Make the CEO look good and help the company succeed". How do you do that, exactly? This book is unlike any other of its kind. We've cut to the chase and shared with the new CFO what they need to do and how to do it.
Average 3.3 star rating
6: The Financial Controller and CFO's Toolkit: Lean Practices to Transform Your Finance Team by David Parmenter.
The Financial Controller and CFO's Toolkit is a hybrid handbook and toolkit with over 100 lean practice solutions and a wealth of practical tools for senior financial managers of small, midsized and large companies. This book outlines the mindset of paradigm shifters relevant to future-ready finance teams, and contains guidelines on how to become an effective change leader.
Average 4.5 star rating
7: Reinventing the CFO: How Financial Managers Can Transform Their Roles And Add Greater Value, by Jeremy Hope.
On the heels of a decade of scandals and the new pressures brought on by the Sarbanes-Oxley Act, corporations expect far more from their CFOs than simply managing the numbers. They expect decision-making support and performance insights that can improve bottom-line results. Unfortunately, the complexity and detail inherent in CFOs' jobs keep them shackled to budgeting and transaction-processing systems that leave little time for value-adding activities.
Average 3.8 star rating
8: Financial Planning & Analysis and Performance Management: Critical insights for savvy financial analysts, by Jack Alexander.
Financial Planning & Analysis and Performance Management is the essential desk reference for CFOs, FP&A professionals, investment banking professionals, and equity research analysts. With thought-provoking discussion and refreshing perspective, this book provides insightful reference for critical areas that directly impact an organisation's effectiveness. From budgeting and forecasting, analysis, and performance management, to financial communication, metrics, and benchmarking, these insights delve into the cornerstones of business and value drivers.
Average 4.1 star rating
9: The CFO Yearbook, 2020: The Finance Career Builder's Guide to the C-Suite, by Jack Sweeney.
Traditional career paths in corporate finance are quickly being abandoned as more companies and organisations seek out strategy-oriented executives wielding collaborative leadership skills. During a 12-month period, we interviewed 100 CFOs and asked them to chart their own career trajectories while providing personal insights into how they acquired the knowledge and experience necessary to advance upward into the C-suite.The result? The CFO Yearbook 2020, a guide designed to help finance executives successfully navigate today's quickly evolving finance function.
Average 4 star rating

Popular ebooks from formulate
1: Kick Start Your 2020 Finance Transformation in 5 Easy Steps, by Formulate.
In a world where disrupters are reshaping the business landscape, we are constantly reminded for the need to be in a constant state of metamorphosis by reshaping ourselves to stay relevant. Disrupters highlight the requirement for change by creating a healthy tension in the market place and keeping the establishment looking over its shoulder. With the need to stay agile and one step ahead of the competition organisations need to constantly look at how they can empower employees, increase customer engagement, optimise operations and transform their products or services.
2: What If - Successfully Scenario Planning For Extraordinary Events, by Formulate.
With the significant disruption to both lives and businesses across the world, we are currently living through a period of uncertainty. So how do you plan for the unexpected? Are you able to adapt to rapid change? Finance is fast becoming the driver of decision making, and it needs to be able to deliver fast and accurate interlinked scenarios. In this eBook, we look at how organisations can plan for the unexpected by rapidly adapting to changing market conditions using scenario analysis and what if's.
3: What a New Finance Director Should do First, by Formulate.
Starting any new role can seem daunting, as a c-level finance leader, you will be expected to be pro-active, implement improvements and drive the success of the business. As a finance leader entering a new role you will be faced with a host of challenges, including what seems like a roller coaster of learning. For many new senior appointments, you will be expected to be pro-active, implement improvements and drive the success of the business. So it can be tough to work out what to tackle first and how to work out what makes it into your plan for year one, however, we all need a little help getting started.
4: Successfully Adapting to Change After Brexit, by Formulate.
The 1st January 2021 is a key date that businesses need to be preparing for as this is the proposed date when the new trade deal, along with all the new tariffs, regulations, customs and laws will come into play.
With such little time left, and so much uncertainty on how trade will be affected, businesses need to be in a position where they can successfully adapt to change in uncertain market conditions. While businesses don't yet know the outcomes of the Brexit negotiations, it highlights that when change happens, there will be very little time to adjust.
---
About Formulate
Formulate - A Kainos company are one of the leading UK and European partners for Adaptive Insights. We build and improve forecasting solutions for existing and new users of Adaptive Insights. Our unique set of business pack solutions, alongside our extensive skills in finance, business and software deliver leading forecasting solutions.