During these unprecedented times, it's more essential than ever for businesses to be able to provide accurate cash forecasts with speed and agility. We look at why modern cash forecasting requires modern tools.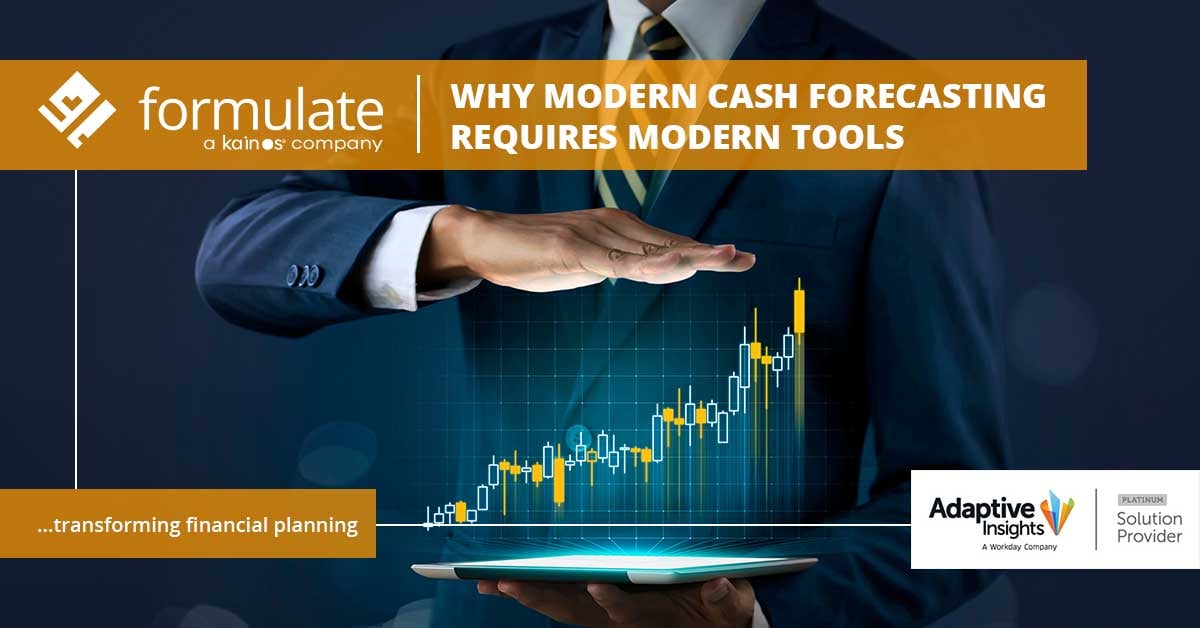 Keeping on top of cash flow is an essential part of any business and forms the foundations of decision making, direction and planning.
During these uncertain times, businesses need more than ever to create multiple cash-flow scenarios using various dimensions from across the organisation. The reason is simple, understand the situation, evaluate multiple scenarios and decide on the best path using insightful data.
Understand => Evaluate => Decide
The stakes are higher than ever with insufficient cash flow being one of the biggest reasons that businesses fail. Forecasting your company's cash flow is rarely straightforward however because of the multiple variables that determine how much cash required for operations versus the amount available.
How Accurate Is Your Forecast?
In a recent survey, two key questions were asked to ascertain the level of accuracy and biggest challenge.
How accurate is your cash flow forecast?
Highly accurate (almost no variance): 0%
Accurate (some variance, but not significant): 32%
Somewhat accurate (some significant variances): 53%
Very inaccurate (major variances): 8%
Variances aren't analysed: 8%
What is your biggest cash forecasting challenge?
Don't have visibility into all forecast data inputs: 65%
Lack of communication with other stakeholders: 20%
Don't have time/resources: 10%
Other: 6%
The survey highlights that less than one-third of participants thought that their cash flow forecast was accurate, with the biggest challenge being able to bring all the forecast data together.
With cash flow playing a major factor in business failure, is it not time to look at reducing inaccuracies and have complete visibility into all forecast data inputs from across the organisation?
Customer Story - Formaplex
To be able to create highly accurate cash flow forecasts a new approach is needed. Formaplex, a tier1 manufacturer and supplier to the automotive, aerospace, defence and motorsport sectors were using a system of complex spreadsheets to manage multiple projects, with significant cash flow requirements.
In addition, high growth within a fast paced-sector was pushing the existing system to the limit. There was a need to manage cross-currency issues, as well as inter-divisional trading.
The most urgent need for Formaplex was a fully integrated P&L and cash flow based on first principles they could see, trust and understand the numbers in the forecast. This built confidence that they could see the model was built on traditional accounting principles.
"FORMULATE HELPED US ACHIEVE THE REALITY OF MOVING AWAY FROM SPREADSHEETS TO THE BENEFITS OF A FLEXIBLE STANDARD TOOL LIKE ADAPTIVE INSIGHTS."
Adaptive Insights provides an intelligent, scalable, and comprehensive cloud-based planning platform with advanced cash flow management. Improve forecast accuracy and minimise manual data entry with streamlined, automated balance sheet and cash flow management. Features include:
Top-Down Balance Sheet and Integrated Cash Flow Planning
Incorporate best practices and model your balance sheet using a top-down approach at the total company or entity level, and then budget at the roll-up account level. Use formula logic to create a completely automated cash flow that reflects changes in the balance sheet.
Comprehensive Balance Sheet Modelling
Adjust key balance sheet assumptions and drivers, such as DSO and DPO, for payables and receivables. Create logic for supporting schedules like inventory, pre-paids, debt amortisation, and accruals. Account for fixed assets and accumulated depreciation from capital purchases.
Global Financial Planning That's Simplified
Simplify multi-currency balance sheet plans for multinational operations. Adaptive Insights automatically translates actuals at the entity level — in the local currency — to the corporate currency, and automates cumulative translation adjustment. Create historical rates for common stock, asset purchases, and more, and report financial data in any currency.
Consolidated Balance Sheet and Cash Flow
A powerful rule engine to cut the need to manually compare inter-company payables and receivables and generate eliminations across subsidiaries. Real-time rules identify and match trading partners to auto-generate variances and create balanced entries. You always have a truly consolidated balance sheet and an accurate view of cash flow for the entire enterprise.
Flexible Scenario Planning and Analysis
Model different financing scenarios, DSO terms, and more to get greater transparency into investment income and liquidity, as well as to identify growth opportunities and fundraising needs. Updates to revenue and expenses automatically flow to the balance sheet and cash flow, so your financial projections are always up to date.
Manage Metrics to Achieve Optimum Financing and Liquidity
Monitor business performance with an at-a-glance overview of analytics for key ratios — quick, current, debt/equity, and turnover. One-click refresh of financial reports makes it easy to provide executive management with the critical metrics that inform sound investment strategy.
---
About Formulate
Formulate - A Kainos company are one of the leading UK and European partners for Adaptive Insights. We build and improve forecasting solutions for existing and new users of Adaptive Insights. Our unique set of business pack solutions, alongside our extensive skills in finance, business and software deliver leading forecasting solutions.