It's no surprise that senior finance professionals really struggle to delegate effectively. So here's our guide on how, and what work to let go.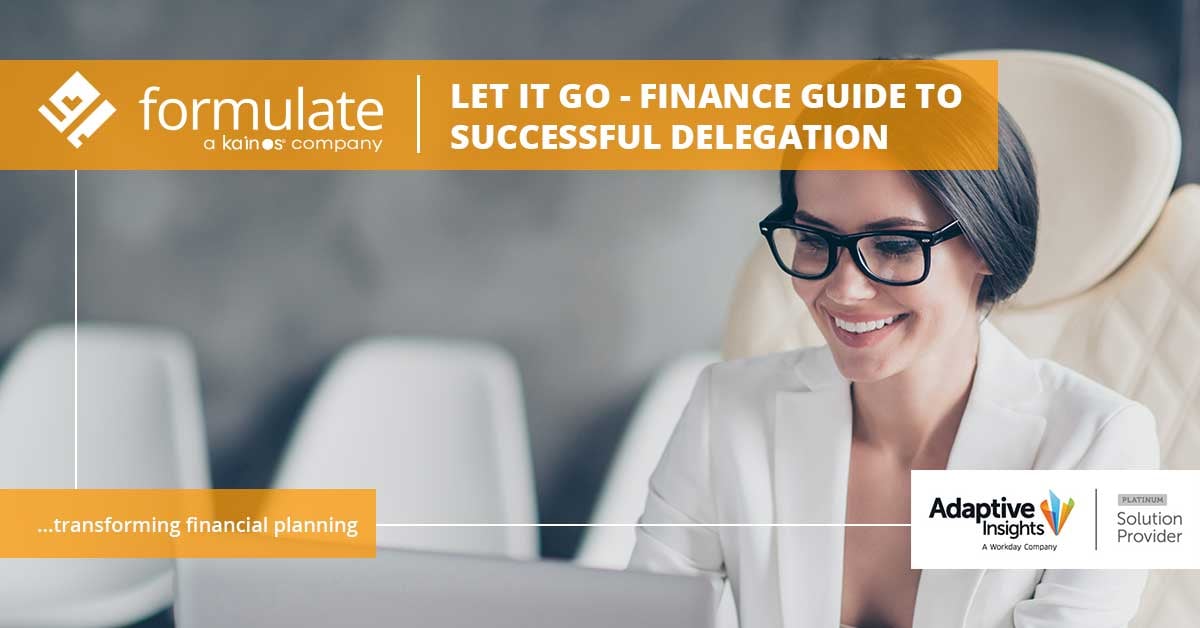 Guide To Delegation
Getting the numbers right is drilled into finance professionals from day one. There is no room for inaccuracy, and the price to be paid is not just a rap over the knuckles it's being shown the door, along with a less than glowing reference.
Having run a business and sold it I can identify with those who find it hard to let go of workload. At the same time, I also know that I became the log jam for things moving on, and that created its own frustrations.
These days finance are continually being told they need to be more agile, provide better insight and analytics to drive better decision making, as well as communicate and respond faster and better. At the same time, the basics still need to be spot on. Reporting both statutory and commercial need to be accurate and timely - it's what finance are relied on to deliver - guardians of the business.
The problem
All these new roles ads up to more work, responsibilities and expectations to deliver against. One person can't do it all, not well anyway. It can be easy to get so down in the details, that you forget to step back and review how the process of finance woks, why the team are doing the jobs they do in the way they do, and how you can win back time without jeopardising integrity both personally and commercially.
The pressure of constant deadlines makes taking an overview of finance hard. However, there is space to do this in the everyday and to use your team to do it.
In order to understand the dynamics of what makes a business tick a head of finance needs time to identify the drivers of that business. That means the processes which are slowing down progress and profitability as well as opportunities to exploit in order to expand and grow.
An inward review of a finance department is just a smaller version of that. There are operational activities which have grown up over time which need overhauling and that might mean new processes or systems. At the same time slow response in reporting results or lack of good analytics may be costing the company in decision making, whilst the good brains in the finance department are being wasted on repetitive drudge work instead of adding insight to others.
So the problem is not just about giving away work, but rethinking how to reduce the workload for all and how to get there.
How to let go
Building the right team culture is a big part of letting work go. Unless the finance team feel confident and trusted to add value then they are not going.
Start with getting your team to ask more questions. Rather than identify themselves as delivering for others, start getting your team to identify themselves as valuable sources of information and insight. They will do this if you start asking their opinion on what the results mean.
By asking questions of the results such as: Why have sales in SE region in products X fallen, will encourage thought and analysis as well as discussion. Getting suggestions on what impacted results as well as modelling the variables which may have impacted it will provide valuable insight for the business.
Internally your team will have ideas on how to make the finance work more effectively. So instead of the head of finance taking the lead, allow another in the team to research and investigate ways to improve particular processes. You will make a final decision, but others are more than capable of gathering the information needed.
Ensure that when you are looking at investing in new IT systems for example that the team are involved in seeing the demo and asking questions. A lead may be identified from this process who can become the internal project leader and manage the implementation client-side. There is no need for the head of finance to be dragged into the project, but as a project sponsor, you can make the key decisions and push the project forward when needed.
Lend out your team
This might sound contradictory advice when it comes to letting work go to win back time. However, by allowing team members to spend time in other functions, a better understanding of how they work will provide insight on business drivers, help identify opportunities for improvement as well as the risks, whilst improving communication lines. This will relieve the CFO of the leg work of staying ahead of changes across the business and provide an opportunity to improve finance relationships.
Business partnering
The flip of lending is borrowing. By welcoming non-finance people into the function, they can get a deeper understanding of how finance works which encourages sharing of knowledge which improves communication. This can speed up knowledge transfer and encourage cross-fertilisation of ideas, as well as breaking down silos in thinking and reduce the build-up of frustrations between functions.
Special projects person
At any one time, finance and other departments will be going through change, by appointing one of your team as 'special projects person' they can handle the additional strain new systems, processes or other change such as acquisitions could have on the finance function and the wider business. At the same time, someone new isn't learning the why's and wherefores of project pitfalls. Strong project management skills are not part of everyone's skills set, so it's worth developing your 'go-to' person for heading up projects.
Systems - your new critical team member
As a CFO is changing and communication is key to ensuring the business, stakeholders and your team are well informed. So the final critical member of your team is your systems.
To help others contribute, understand and also reduce the amount of time your team wastes on performing menial tasks demands a better system. Replacing old excel based systems and making the process of budgeting, forecasting and reporting more automated and easy to access will make processes faster and give you a finance team who have time to interrogate the numbers, provide insights and narrative as well as help inform decision making.
Reports need to be relevant and slick.
Information needs to be current and complete to be considered relevant
Contributing to budgets and forecasting information needs to be easy
Automation will reduce the repetitive drudge work
Powerful drivers allow for more extensive interrogation
Everything has to be easy to use and shareable to
Finance team have long been considered the back-office function that number crunches and plays with Excel. Empower them to become a critical business partner adding analysis of data and providing valuable reports to communicate and you'll not have to work at delegation.
Read our related article 'How to attract and retain the best finance team'
download your free finance eBOOK

---
About Formulate
Formulate - A Kainos company are leading UK and European partners for Adaptive Insights. We build and improve forecasting solutions for existing and new users of Adaptive Insights. Our unique set of business pack solutions, alongside our extensive skills in finance, business and software deliver leading forecasting solutions.