Now more than ever, businesses need to have a robust cash forecast to provide clear transparency on liquidity. We look at several key actions business can take.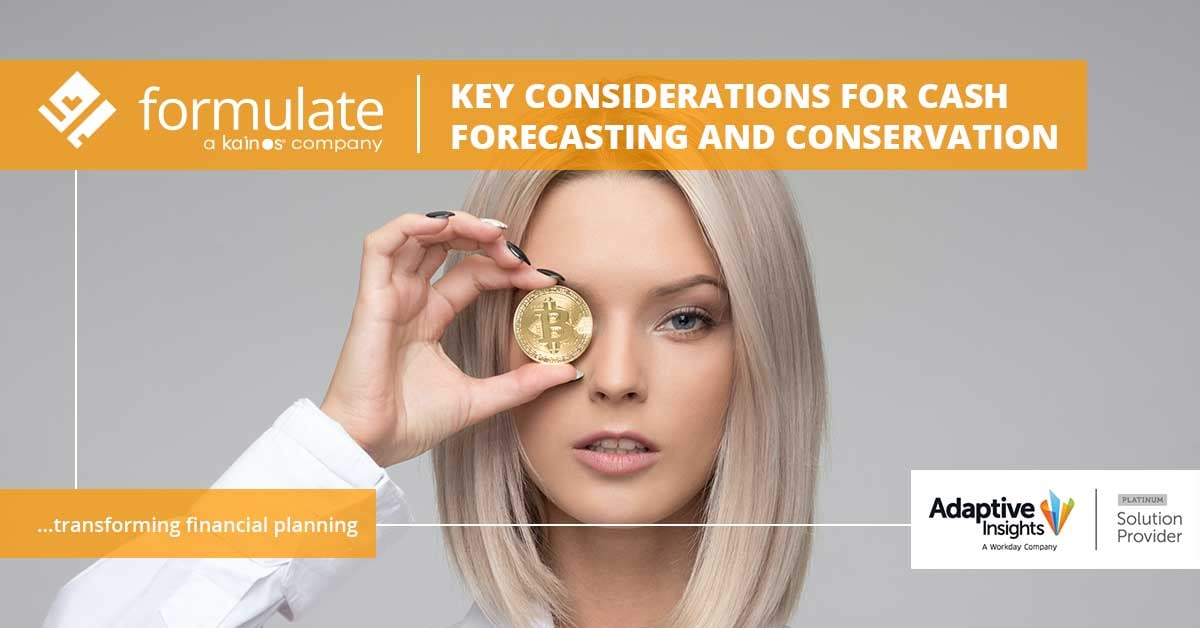 COVID-19 is having far-reaching implications for the global economy with organisations experiencing significant operational, financial and liquidity issues. We know that organisations are facing potentially significant challenges to which they need to respond rapidly.
Now more than ever, it has never been more important to have a robust cash forecast to provide clear transparency on liquidity.
Formulate are working closely with its customers to help them to prepare and respond with Gartner leading Financial Planning & Analysis (FP&A) software Adaptive Insights.
During this challenging time, there are several key actions which PWC recommend businesses could take.
1: CASH Forecasting
Rapidly develop 13-week cash flow forecast or challenge
robustness of existing forecast.
Perform sensitivity analysis, modelling worst-case scenarios and downsides.
Ensure forecast provides visibility at the right level (e.g. daily vs
weekly cash flows), forecasting below EBITDA for true cash
position and informed decision making.
Challenge input assumptions and incorporating additional data
sources (e.g. WHO and Government guidance).
Raise awareness on the importance of cash and accurate forecasting across the business.

2: managing stakeholders
Develop a clear communication plan to ensure consistent
messaging to key stakeholder groups (e.g. customers,
suppliers, lenders, HMRC on time to pay arrangements).
Engage stakeholders early and be clear on the ask.
Understand their current position, how they may act and issues
which may arise.
Ensure additional stakeholder groups are not overlooked (e.g.
pension trustees, credit insurers, credit card companies).
3: Cash conservation
Prevent the commitment to further expenditure across the business.
Challenge all uncommitted spend and the value it actually will
deliver.
Immediately review all delegated authority spend levels.
Daily cash calls to challenge at a devolved level and hold business units accountable.
Consider offering early payment discounts to customers.
Assess trade-off between delayed payment, service delivery and
supplier relationships.
Move from a daily to weekly payment run.
Consider surge resources (internal/ external) to support cash
generation/preserving activities.
4: directors responsibilities
Consider whether professional advice is needed, especially if
there is a risk of insolvency.
Establish a clear view of cash flow, alongside balance sheet position and trading performance.
Maintain evidence of decision-making process – ensure all
material decisions and the associated considerations are
documented in detail.
Consider appropriateness to continue to trade.

cash flow management software
Improve your forecast accuracy and minimise manual data entry with streamlined, automated balance sheet and cash flow management software from Adaptive Insights.
Adaptive Insights is cloud-based corporate performance management (also known as enterprise performance management or EPM software) that provides everything you need to enable an active financial planning process. Easy to use and accessible from anywhere, Adaptive Insights empowers you and your team to better manage your business.
Adaptive Insights - Cash Flow
Top-Down Balance Sheet and Integrated Cash Flow Planning Comprehensive Balance Sheet Modelling
Global Financial Planning That's Simplified
Consolidated Balance Sheet and Cash Flow
Flexible Scenario Planning and Analysis
Manage Metrics to Achieve Optimum Financing and Liquidity
---
About Formulate
Formulate - A Kainos company are one of the leading UK and European partners for Adaptive Insights. We build and improve forecasting solutions for existing and new users of Adaptive Insights. Our unique set of business pack solutions, alongside our extensive skills in finance, business and software deliver leading forecasting solutions.