How to Plan and Report in the Charity sector
There are specific challenges which charities and not for profit (NFP's) face when it comes to planning and reporting.
We've worked with enough charity organisations to know that planning by project, the ability to trace multiple funding sources as well as the burden of regulatory and compliance reporting, means charities are struggling with old school tools like Excel, which saps their already limited resources.
We share a new way forward for organisations which need a different way to plan, budget and report.
CHANGING LANDSCAPE
Charities have been hit with wave after wave of challenges:
Funding crisis
More regulation & compliance
Bad press
In any other sector this would be a tough one to ride, but it's felt more like a tsunami for the charity sector.
With so many aspects of the organisation having been touched by changes from fund raising, the onset of GDPR, as well as the growing weight of regulation the need to plan and report effectively is ever more critical.
Clients like Christian Aid and Charity Bank amongst others recognised they needed more flexible and easier planning and reporting functionality to be able to keep pace with these market changes. So we took a deeper look at what charities need when planning ahead.
The NVCO hightlight: "The growing importance of planning ahead and being prepared for any scenario, even those that may at first seem the most unlikely. "
Four key areas of change which impact charities:
1. Political
Brexit is the obvious candidate here, and likely to have a direct effect on grant and funding sources particularly for community and local projects. More generally, the increasing transparency demanded by politicians places greater demands on systems
2. Economic
Brexit has also impacted charitable donations amongst other things. There certainly seem to be downward trends in 'giving'. The impact of property values and an ageing population mean legacy donations have increased.
3. social
The growing emphasis on the need to be connected with the organisation and it's objectives as well as engaged with its aims. Efficacy and trust are also paramount which impacts every aspect of how a charity operates from equal pay, minimum wage to reporting transparency.
4. technological
GDPR had a big impact last year, with issues around trace-ability of data. In addition to a growing burden of reporting transparency.
All these elements along with many other issues are impacting finance in charity. It falls to them to report effectively, identify and highlight risk to their trustees, and manage the charity's exposure to change in the wider market. This requires fast accurate forecasting of multiple scenarios, as well as robust reporting.
There is a sensitivity around investing in tech to improve this process, understandably. Nevertheless, if it allows greater scenario building and tracing of funding sources, as well as improved reporting and accountability then it can payback fast for an organisation. Especially if it avoids negative exposure.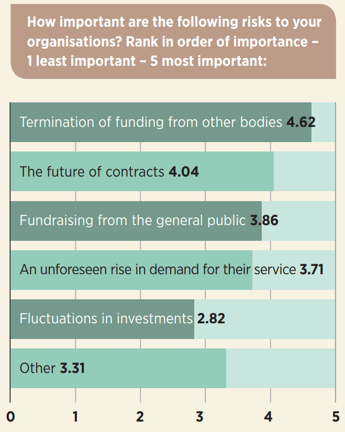 Reference: https://www.thirdsector.co.uk/planning-unforeseen-expert-report/article/1454867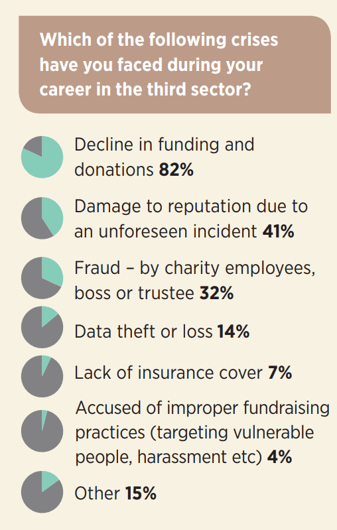 Biggest threat is financial climate, with growth on the wane.
"Charities should stop focusing on "attacks on the sector" and face up to the end of the era of continuous financial growth, Sir Stuart Etherington has told the National Council for Voluntary Organisations' annual conference
Commercial sector finance professionals are used to being accountable for the growth they can deliver. This means they have to interrogate what variables impact performance. In the same way Charity finance FD's need the capability of doing the same. If the trend is away from subscription donations and more towards legacy then you want to identify trends fast so trustees, department heads and marketers can act on the information. At the same time you want to model how a percentage shift when it comes to grants which may cease when leaving EU, and what this will cost the organisation.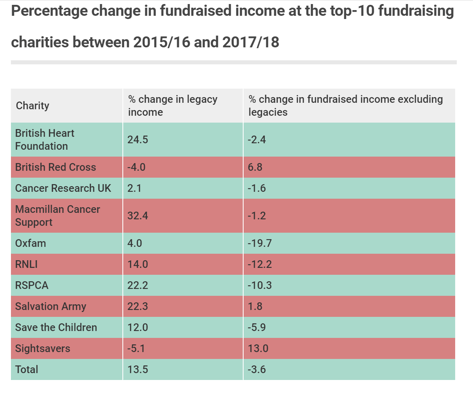 More broadly, many organisations (and charity's aren't alone on this) can find it tricky to know just how many workers they have on their books. Not for profit organisations have the added complication of volunteers along with the regulations that follow from that. Minimum wage changes, data protection and new pension liabilities all needs to be accounted for. This information is as much part of your planning and forecasting model as pure financial information.
Adding many sources of data to the planning model will provide completeness of vision, and far more accuracy when building out forecasts. Many charities deliver based on projects. Funding attached to specific deliverable's, delivered by a specific team with resources, and multiple variables. It is tricky to plan against so many variables in an application like Excel. In addition, being able to attach multiple funding sources and track outcomes back to them can be extremely complex.
CHRISTIAN AID STORY
Christian Aid were struggling with exactly the problem outlined above. Not only did they have a multitude of funding sources which needed to allocated to specific projects and outcomes - a traceability nightmare! But they also had many projects running globally with separate resources and budgets and many people contributing to those. This created an Excel monster and an enormous amount of work for the finance team when it came to completing the budget cycle.
Moving to a cloud solution meant they could pull data from their many GL's into their plan and one version of the budget could be updated by many contributors. As reports could be produced using their existing reports pack in Excel but updated from the database in the cloud system (adaptive Insights), reporting became fast, accurate and easy.
THE WAY FORWARD
As part of the drive to make not for profit accountable, tech will play an ever increasing role. Not only that but it can reduce workload and overhead long term which is ultimately what your donors want to see.
Tech investment can seem like an over indulgence for a charity and finance is usually the last to invest in better systems. Yet the complexity and weight of regulatory and reporting now demanded of the sector means a fully integrated cloud solution can really pay back fast, we've talking less than 18 months.
Want to learn more? Join us at our next Let's Talk Finance event or Webinar