The Gartner 2019 Magic Quadrant for Cloud Financial Planning and Analysis Solutions has been released and it shows Adaptive Insights is a leader across the board.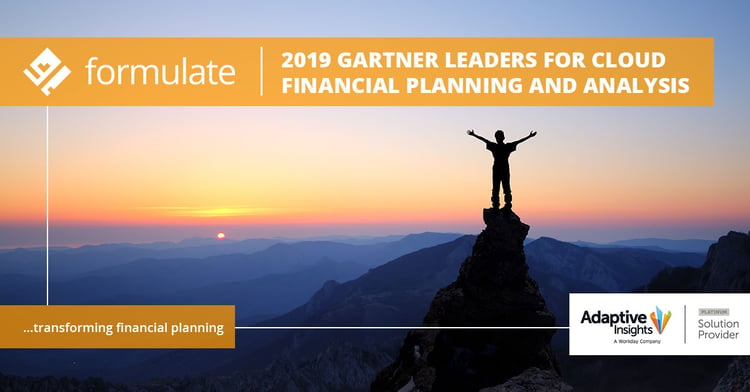 Financial planning and analysis (FP&A) solutions support the office of finance's budgeting, planning and forecasting efforts.
The FP&A market has shifted from mature on-premises offerings to cloud solutions. Finance application leaders are seeking SaaS solutions to reduce application support costs, increase application flexibility and shorten time to value.
Adaptive Insights
Adaptive Insights is a Leader in this Magic Quadrant. Adaptive Insights' position reflects strength in its sales, marketing and product strategy, product and marketing execution, and high customer satisfaction ratings (72% of surveyed customers would recommend it without qualification).
Adaptive Insights also serves more than 4,350 cloud customers.
Recent Gartner Peer Insights reviews call out Adaptive Insights' ease of use, spreadsheet-like user interface and visualizations, straightforward administration, APIs, and ability to "lock" versions, ensuring changes to data in future models don't affect prior versions.
Reference customers for Adaptive Insights reported that their top-three product selection criteria, in order, were ease of use, functional capabilities and cloud capabilities.
Strengths
The acquisition of Adaptive Insights by Workday enables access to Workday's significant technology investments in analytics and The acquisition has further improved Adaptive Insights' ability to reach large enterprise users and expand globally to offer more local support (Workday has 30 offices outside of North America).
Customers placed Adaptive Insights in the highest quartile in seven of the 11 key areas surveyed, including ease of implementation, ease of use, ease of maintenance, solution flexibility, overall experience, meeting needs versus money spent and sales Almost all of Adaptive Insights' reference customers reported having upgraded to new versions within a week, mostly as soon as the version was available. These top-quartile scores indicate a reliable cloud architecture and version release process.
Adaptive Insights has increased scalability and performance capabilities in support of larger and more-complex implementations by large organizations via its Elastic Hypercube Other recent refinements include upgraded dashboard usability, self-service analytics and visualizations, and improved multi-currency management. Survey respondents also reported an above-average number of users for planning and integrated financial planning.
The other half of great software - Delivery
Formulate offer a dose of business savvy when it comes to building your planning solution. Accountancy qualified consultants ensure the the implementation cures your pain points with a dedicated delivery manger and an Agile approach to ensure the story ends well.
'Project drag' is a common ailment, so given finance are driven by constant deadlines; budgeting rounds, funding applications, acquisitions, and a host of other pressures, the need to implement fast and effectively and get results is critical.
With Adaptive Insights ownership stays in Finance, no need for IT and with an 'Excel like', look and feel user adoption is understandably high.
We backed Adaptive five years ago, and our clients along with Gartner agree that it is a great product. As the leading global partner, we are part of the Adaptive story. We deliver to enterprise clients like; SES, Inmarsat, KA Group and M&C Saatchi. Our portfolio of pre-packaged solutions which fit all alongside finance focused consultants can tailor these to the business needs saving you time and money.
What is clear from Gartner, is the trend away from Excel and inflexible on-premise solutions. When it comes to Forecasting Planning and Analysis, clients are on fast growth trajectories. The ability to pull relevant data into a single source of truth, model scenarios fast and easily analyse to drive better decision making is becoming a need rather than a nice to have.
So if you'd like to get started then Read the Gartner report for yourself and why not take a look at our customer stories, because it's not all about the software!
---
About Formulate
Formulate - a Kainos company are leading UK and European partners for Adaptive Insights. We build and improve forecasting solutions for existing and new users of Adaptive Insights. Our unique set of business pack solutions, alongside our extensive skills in finance, business and software deliver leading forecasting solutions.