Managing multiple projects is complex, making financial performance modelling difficult. Discover how to transform your modelling performance in our 'Planning For Project-Based Businesses' on-demand webinar.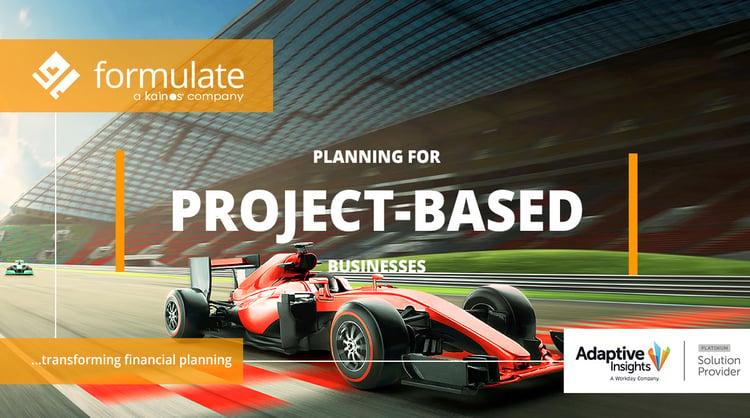 So many businesses are project-based. Every sector from property, media, manufacturing to charity model performance around multiple variables associated with projects.
Project-based business face specific challenges that are specific to them. This may include agency costs, materials, employee utilisation, professional services cost and subcontractors, to name a few. The considerations and challenges are unique, and these organisations need to take the right steps to understand and overcome these challenges.
When it comes down to tracking, reporting, and planning effectively - knowing the costs and drilling down in order to understand and optimise spending on each project is essential.
Learn More: Watch 'Planning For Project-Based Businesses'
If you would like to see how modern planning solutions can provide flexible, multi-variable analysis by connecting up your data watch our Webinar.
In this 37 minute on-demand webinar, we look at the power of reporting will show you how to improve modelling performance.
During the webinar you will see how to:


Pull data from multiple sources to drive plans
Build scenarios with speed and agility
Forecast against multiple variables
Integrate your forecast with P&L, Cashflow and Balance Sheet for one view
Collaborate and contribute to plans
Improve reporting and analytics

You'll hear from other CFO's and finance leaders on how they plan using cloud tools.

You will see a short Demo and presentation showing how projects can be modelled successfully.
Watch Webinar Promo
About Formulate - A Kainos company
Formulate - A Kainos company are one of the leading UK and European partners for Workday Adaptive Planning (Adaptive Insights). We build and improve forecasting solutions for existing and new users of Workday Adaptive Plannings. Our unique set of business pack solutions, alongside our extensive skills in finance, business and software deliver leading forecasting solutions.