For many CFO's digital transformation is a top priority, however, it can become overwhelming knowing where to start. Formulate have provided an immediate, actionable plan to help you get underway.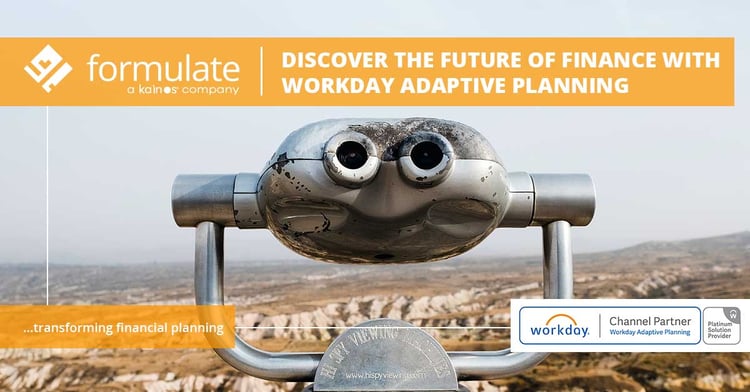 Discover the future of finance
Digital Transformation, Digital Culture, and Digital Roadmaps are just some of the words frequently banded about around the water coolers of finance departments and boardrooms of organisations around the world.
For many CFO's keen on transforming their department, and potentially the business, embracing new technology and methodologies that will bring countless benefits to the finance teams, board members and stakeholders is a must.
Modern FP&A Software
A modern financial planning and analysis (FP&A) solution is just one of the many solutions that will be essential to help manage the complexities and ever-changing dynamics and the business agility required of a modern organisation.
Most CFO's long to be able to make decisions based on insight, not gut instinct and have a holistic view of the business in order to make fast and informed decisions and supporting growth and business health.

That's the potential modern business planning holds for every organisation. It takes a powerful, always-on, easy-to-use environment that turns business planning into a strategic advantage.
Choose a gartner leader
In the Gartner 2019 Magic Quadrant for Cloud Financial Planning and Analysis Solutions Workday Adaptive Planning (Adaptive Insights) is a leader across the board. The high scores of Workday Adaptive Planning reflects strength in its sales, marketing and product strategy, product and marketing execution, and high customer satisfaction ratings (72% of surveyed customers would recommend it without qualification).
Recent Gartner Peer Insights reviews call out Workday Adaptive Planning for it's ease of use, spreadsheet-like user interface and visualisations, straightforward administration, APIs, and ability to "lock" versions, ensuring changes to data in future models don't affect prior versions.
The Workday Adaptive Planning enables teams to collaborate, gain insights, and make smarter decisions faster. With powerful modelling and built-in analytics, Workday Adaptive Planning provides a comprehensive set of cloud-based software solutions for Finance and Sales.
Workday Adaptive Planning empowers business leaders with a process that is collaborative, comprehensive, and continuous—a process we call active planning. When you can collaborate with business users, quickly build comprehensive models and dashboards, and plan and forecast on a continuous, rolling basis, your organisation is set up to drive business success.
Success is critical
Successfully transforming the finance department of any organisation with a modern FP&A solution project requires more than just C-level support, change management skills, and agility.
In the future, it is likely that every successful company will have either have either have been 'born in the cloud' or to have successfully transformed themselves. In the case of the latter, not every company making the attempt will be successful. It's hard to predict the winners and the companies who won't survive, because every situation is unique.
For companies that have embraced the cloud or have been born in it, the key to success is to partner with experts in their field and whom will be able to guide you along the journey to success.
arrange your Discovery call
It can become overwhelming knowing where to start so Formulate have provided an immediate, actionable plan to help you get started.

The first step on the path is to arrange a 10-minute Discovery call at a time and date that suits you. Our Discovery calls are all about setting the scene and finding out more About-Us and About-You.

During the Discovery call you will:


Realise the need to change
Discover what other finance teams are doing
Understand a typical implementation process
Get answers to your questions
Discover the future of finance by booking your discovery call using our online calendar at a convenient time and date.
---
About Formulate
Formulate - A Kainos company are one of the leading UK and European partners for Workday Adaptive Planning (Adaptive Insights). We build and improve forecasting solutions for existing and new users of Workday Adaptive Plannings. Our unique set of business pack solutions, alongside our extensive skills in finance, business and software deliver leading forecasting solutions.