If you not already aware of the benefits that a modern cloud financial planning system can bring to your organisation, your staff likely are. As a finance leader, you know that change must happen if you are to continue to function effectively and efficiently with the support and backing of your team.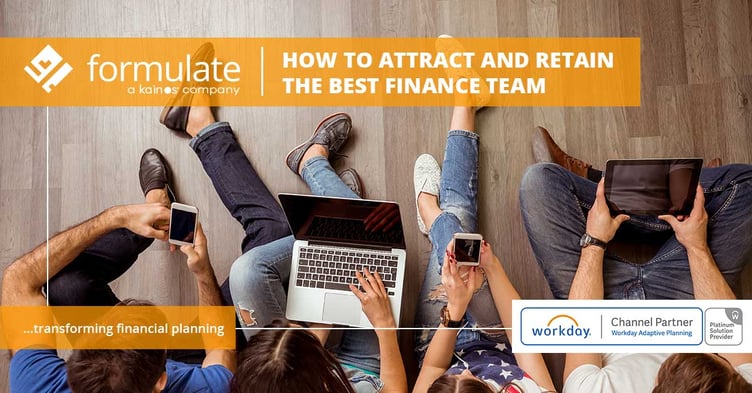 The hand-tied orchestra
As with most things in life, there is complexity and independency. As a finance leader, you may see yourself the conductor of an orchestra, bringing together the right talent and ensuring no one misses a beat when creating a symphony of facts, figures, forecasts and month ends.
However, what would happen if the orchestra had to play with one hand tied behind their back? As financial musicians and resilient individuals, the show would go on. Your orchestra would find a way play, albeit missing key notes.
'...finance teams have been historically accepting of playing with one hand tied although completely oblivious...''
The resulting performance would be disappointing, not only to the conductor, but the musicians themselves, and what if you had listened, would you be satisfied? As the conductor, you know that the orchestra had great potential when able to play with their hands untied.
Historical acceptance of playing with one hand tied
Unlike many other organisational departments, finance teams have been historically accepting of playing with one hand tied, although completely oblivious. Prolonged exposure to being hand-tied can over many years lead to acceptance of a situation where full potential cannot be reached, deskilling occurs and workarounds and fixes are found to counteract the situation. Sounds familiar right?
Your department is only as good as the people that run it and support you. The right staff can make a significant impact on the organisation, and as their mentor and leader, you appreciate that interdependence is the paradigm of we-we can do it. We can work together, we can combine our finance talents and abilities and work with a collaborative approach for the benefit of the organisation.
You see first hand that your teams at times are frustrated with spreadsheet errors and are tied up with spreadsheet manipulation. You know that their real value is in interpreting data and providing insights and recommendations to the business. Their pain is your pain, for when working interdependently you see first hand the impact of spreadsheet errors, be it stress caused, rushed figures or the effect on the work-life balance.
The old school way of thinking was that the employer holds all the cards, for example, staff would be grateful to have a job and that is all that mattered. However, creating a team that has the knowledge, skills and desire is essential. When tied up in spreadsheet knots knowledge, skills and the desire of finance teams, or in-fact any other team diminishes. This is not a good place for any leader to be in, as this is the road to ineffectiveness and bad habits.
'The majority of finance departments use Excel far beyond its design capabilities.'
Finance teams have traditionally been seen as a heads-down bunch who just tolerate whatever is thrown at them. It is just this sort of pigeonholed thinking that has resulted in underinvestment in finance technology for years and 'buy-in' from the board as 'they always provide us what we need' and 'why do they need that' approach has condemned the majority of finance departments to using Excel far beyond its design capabilities.
The New generation of finance professionals expect more
Finance has strangely been the 'poor relation' when it comes to IT and technology to assist them. However that is now changing as the Cloud FP&A software is able to bring together big data and integrates different finance platforms to create a holistic view of the business and limitless remodelling and scenario building.
The skills of finance professionals are changing rapidly as the tools they use become more cloud-based and less localised. In this digital 'Amazon Prime' age people expect immediacy. Gone are the days of a 28 day delivery for an off the shelf product, although this was the norm in the era when Excel was born.
The new generation of finance professional is more data-driven, collaborative and questioning than ever before. It is becoming increasingly realised that if your organisation is not providing the 'right tools for the job' then the top talent will either move on or not work for you in the first place.
In addition to providing the 'right tools for the job' when you have a low unemployment rate and a growing economy, it's a job seeker's market.
Employers need to demonstrate, more than ever, why they are the company to work for. In this time of struggle, failure to act may result in an inability to grow, and even meet existing demand, ultimately resulting in poor customer and investor relations.

8 factors to attract and retain the best finance team
1: Invest in a gartner leading Financial Planning and analysis solution - Workday Adaptive Planning

What better way is there to attract and retain the best team is to provide staff with the very best cloud financial planning and analysis tools to enable them to reach their full potential and deliver and drive the results and analysis needed. No more Excel nightmares!!!!
Workday Adaptive Planning is cloud-based corporate performance management (also known as enterprise performance management or EPM software) that provides everything you need to enable an active financial planning process.
Easy to use and accessible from anywhere, our CPM finance software empowers you and your team to better manage your business.
Solve common financial challenges faster
Save time and drive results
Get more insights faster
Plan confidently across your organisation
Deliver stunning reports in minutes
Real-time financial consolidation
2: Employee benefits
Companies are calling them 'the secret weapon in the talent war', but how effective are employee benefits when attracting (and retaining) candidates?
Especially in a working world, where Millennials will represent 35% of the global workforce by 2020, quirky and innovative job perks can be the winning difference between you and your competitors. It's important to note that your job perks should reflect the business (and its core ethics) and the industry in which it operates. A recent survey of finance professionals highlighted the following:
71% would like flexible working hours
55% would like work-from-home options
By utilising cloud-based Workday Adaptive Planning, finance teams are able to work from anywhere, at any time.
3: Employee Value Proposition (EVP)
Often known as the 'unwritten contract', celebrating and promoting your organisations' EVP can help to attract skilled talent, based on shared characteristics.
In addition to retaining your employees, a company's EVP can help to attract those passive and active candidates that closely match the characteristics of your business. Your EVP is about defining the essence of your company, how you're unique and stand out from your competitors, and the balance of the rewards and benefits that are received by employees in return.

4: Culture and corporate Social Responsibility (CSR)
Approximately 80% of Millennials examine culture fit with potential employers before applying to and accepting jobs (Glassdoor for Employers, 2017). Your company culture is one of the many aspects that brings the best out of your employees. An employee with a strong cultural fit will thrive in the environment that suits them best, become more engaged, and add more value to the business.
In terms of attracting candidates, you must promote your company culture. It's one of the key characteristics that define your company and, if promoted correctly, will attract not only a great deal of candidates, but also those candidates that share similar ethics. Your CSR activities are also an important attraction tool for candidates. Not only will candidates recognise your positive social and environmental impact, but you will also create a sense of satisfaction and social well-being for current employees.
5: External reviews
What are employer review websites saying about your business? Following a monumental surge in internet users, candidates today can rely on online peer-review websites for information on their prospective employers.
In the last few years, these websites (and their user-base) have matured to be reliable sources of insider information for candidates looking to join any organisation. In an age where branding and company culture are becoming key differentiators when attracting skilled talent, employer review sites are an excellent alternative for candidates to research on and gain 'intel' on the fundamentals of life working at your company.
The same applies to social media accounts. Facebook is now a key medium for individuals to learn more about your company, news updates, promotional activities and company reviews.
6: Company website
Your company website may be the first real interpretation that a candidate receives about your business before applying for a position.
In this context, first impressions really do make the difference. On first glance, if your website is beautifully crafted, easy to navigate and provides the necessary information that candidates are looking for, you're already one step ahead of your competitors.
If you are recruiting for a variety of positions, ensure that you include a detailed description of each vacancy to prevent confusion between roles. A 'careers' page or 'join our team' page is often necessary to include background information on your company (benefits, success stories, employee events, etc.) and to ensure that the vacancies don't get lost amongst the descriptive content on your website.

7: employee success stories
What could be more appealing to a candidate than seeing a current employee's journey, progression and success?
Possibly aside an attractive package and benefits, there's nothing more a candidate wants to see than employee success stories at a business. Stating the possible progression at your business is one thing, but highlighting the journey and success of various individuals within your organisation is another.

8: Review the competition
In today's candidate-driven market, competing businesses are always on the lookout for candidates, including
your employees. Gaining competitive intelligence by monitoring rival businesses is an excellent way to help you understand and plan your attraction strategies. Keeping up-to-date with your competitors' behaviour will give you the upper hand, allowing you to anticipate what they will be likely to do next.
You might also choose to analyse not only how they're selling their business. Salaries are not always the largest incentive to join a business, in fact, employee benefits have a higher value/cost yield to employees than salaries.
---
About Formulate
Formulate - A Kainos company are one of the leading UK and European partners for Workday Adaptive Planning (Adaptive Insights). We build and improve forecasting solutions for existing and new users of Workday Adaptive Plannings. Our unique set of business pack solutions, alongside our extensive skills in finance, business and software deliver leading forecasting solutions.