Cloud planning software provider Adaptive Insights has now rebranded as Workday Adaptive Planning as it integrates further into the Workday family. Find out more about the changes.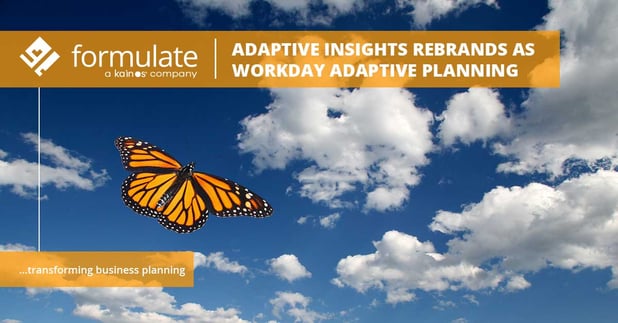 Adaptive Insights becomes Workday Adaptive Planning in May 2020
Late in May 2020 Adaptive Insights integrated further into the Workday family with the announcement of a new name. Workday Adaptive Planning is now the new name for Adaptive Insights with the Workday logo also being adopted.
Enterprise planning software
Workday Adaptive Planning is an enterprise planning platform that helps you make better decisions, faster. Model, report, and analyse your business at any scale and complexity using the flexible and easy-to-use planning platform.

Equip every team with the tools and insights to successfully plan and adapt in a changing world
Finance
Easily model scenarios so you can respond to change in real-time
Report and analyse faster, with greater accuracy for timely insights
Workforce
Model your workforce the way you manage your business: by department, cost center, level, location, position, skills, and more
Make the right hiring decisions with timely insights—as a team
Sales
Dynamically plan sales resources, set equitable quotas, and improve sales predictability—all while keeping pace with changing business needs
Design targeted, manageable, and balanced sales territories—so your teams can do their best work
Operations
Increase demand and supply forecast accuracy
Understand forecast changes and drivers; collaborate with departments to course correct
Marketing
Select the right campaign mix with what-if analysis based on a fixed level of investment
Ensure marketing spend at the right level for the right programs with reports and dashboards designed for business users
IT
Prioritise IT Asset and Project Investment with driver-based modelling that shows financial and operational impact
Optimise resources through capacity planning, buy-borrow-build modelling, and project spend analysis
---
About Formulate
Formulate - A Kainos company are one of the leading UK and European partners for Workday Adaptive Planning (Adaptive Insights). We build and improve forecasting solutions for existing and new users of Workday Adaptive Plannings. Our unique set of business pack solutions, alongside our extensive skills in finance, business and software deliver leading forecasting solutions.