A Day In The Life of Tom Cvijanovic

Today's 'Day in the Life' features Tom Cvijanovic, Workday Adaptive Planning consultant at Formulate. Tom discusses life at Formulate, and describes a typical working day for him.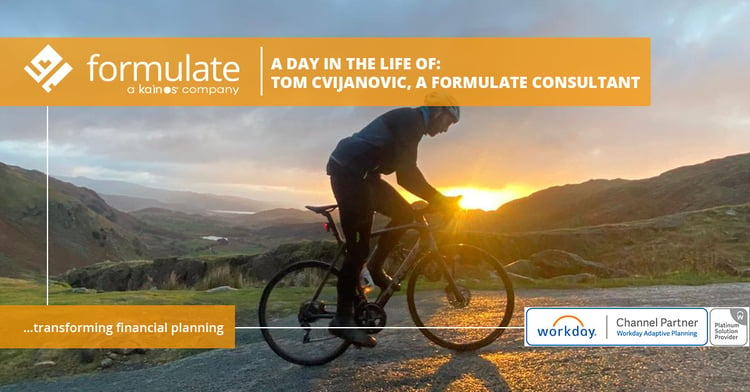 Please Describe Your Job: What Do You Do?
As a Workday Adaptive Planning Consultant I work with our clients and prospects to scope, design, build and ultimately go live with cloud-based planning solutions that are used across their organisations, from Finance to IT, HR, Operations and Supply chain.
We work very closely with our clients to produce the most effective solutions to meet their needs and maximise the value to their business of the Workday Adaptive Planning product.
As a consultant, we can be working on multiple client projects at any one time. The sales process and delivery of several phases of works can often span twelve months plus. This has the benefit of being able to develop strong relationships with many clients.
Talk Us Through A Typical Day
My schedule can vary massively day to day depending on personnel and work commitments; this flexibility is something I very much enjoy. My working day will start anywhere from 5 am - 9 am. Early morning activities can include getting a sunrise cycle or walk in or previously has included calls with clients based in different time zones such as Australia.
Breakfast usually involves black coffee while I try to shift the mince pie and cheese board horrors over the festive period.
A typical working day would involve several meetings that could be internal collaborating with the team, clients to review and demonstrate aspects of our model build works, or prospective clients talking through their requirements and scoping or demonstrating the products' capabilities.
In the role, it is also essential to have good quality undisturbed quiet time to work through the designing and building of models. I will often put my headphones in and listen to some music that I find relaxing, I will not embarrass myself too much with details of the playlist, although I do have a serious soft spot for anything by Taylor Swift.
After the working day (in normal times) you can usually find me in the gym, on a rugby field, in the hills or having a post-work pint in the pub.
What Do You Enjoy About The Role?
On our larger projects, I enjoy working with other consultants as part of a team. However, even when working individually, we are in regular contact with one another sharing ideas, past learnings and working through challenging problems together.
We have a fantastic group of very smart individuals at Formulate, and the environment of openness to ideas and collaboration is a key factor in our success. What I enjoy most about the job is the problem-solving aspect and looking for exciting and challenging use cases that can have a meaningful impact on our client's businesses.
What Has Been The Impact of The Pandemic?
Before Covid-19, we would get out to client premises to meet face-to-face, undertake workshops, and work side-by-side with our clients. I look forward to being able to do this again soon. At the same time, we are highly effective at remote working it is also essential to have this in-person opportunity to strengthen relationships further.
What has massively impressed me recently has been seeing how our colleagues have managed to overcome the challenges of the pandemic professionally. This has included being stranded abroad, having kids running riot as well as the personal impacts of Covid-19, all while somehow managing to maintain a business-as-usual service to our clients and strengthening collectively as a team.
---------------------
About Formulate
Formulate - a Kainos company are leading UK and European partners for Workday Adaptive Planning. We build and improve forecasting solutions for existing and new users of Workday Adaptive Planning. Our unique set of business pack solutions, alongside our extensive skills in finance, business and software deliver leading forecasting solutions.