A Day In The Life of Julian Page

Today's 'Day in the Life' features Julian Page, European Head of Adaptive Sales at Formulate. Julian discusses how life has changed since the pandemic hit and how it has changed his working day.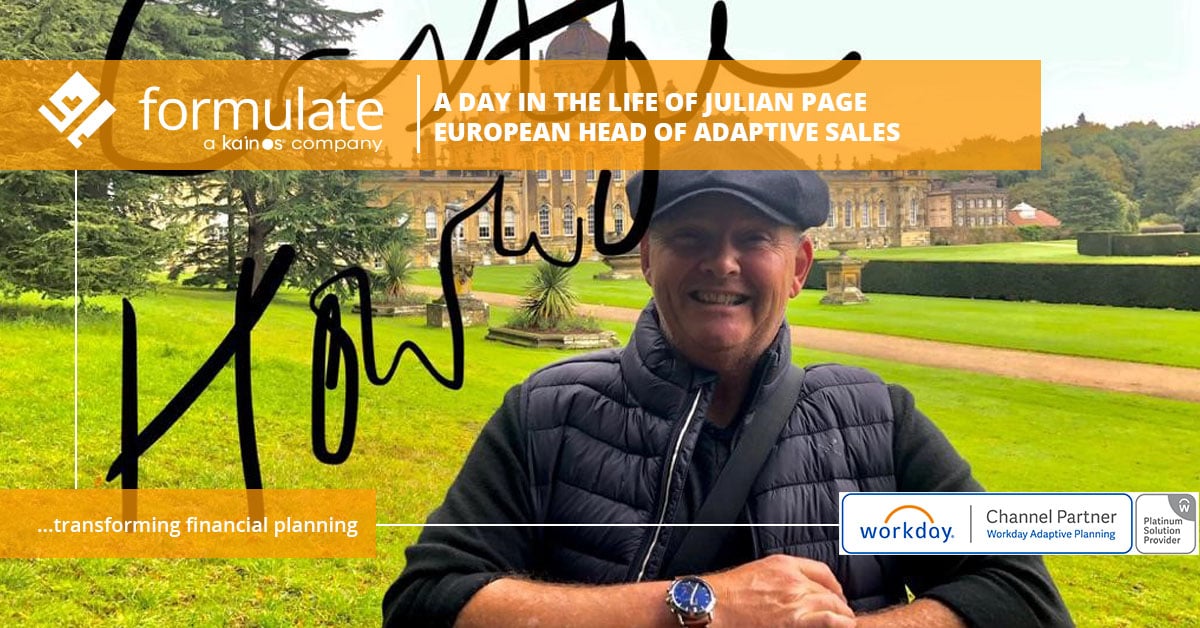 Please Describe Your Job: What Do You Do?
My role is to own and manage all Workday Adaptive Planning sales within Formulate, covering UKI and EMEA. Sales either start with our Marketing Team and Business Development or through an introduction from Workday to the sale's close. We then subsequently keep an eye on all our customers from an add-on sales perspective after they have gone live. In a nutshell, my job is to help the prospect to buy.

Besides meeting and building customer relationships, the second major part of my role is to develop good working relationships with Workday themselves. We work very hand in glove with their sales team. My team in sales, the wider Formulate team and Workday team, now include several members that I have only ever met via Zoom or Teams.
Talk Us Through A Typical Day. How has the pandemic impacted it, if at all?
My typical day has changed entirely since the pandemic hit in earnest last March. Before that time, my day could start with a long drive, train ride or flight to meet with opportunities, generally with one of the consultants or other team members. In short, there was no typical day. Whilst we provide a SaaS product that can be implemented and used remotely, we always liked to meet our prospects. Meaning my day could start very early and finish very late.
Working from home is nothing new for me. I have worked from home since 1997, only going to an office infrequently for crucial meetings. Working from home has many benefits in my work/life balance. Having to stay at home as we have to today is a bit more difficult on occasion.
What Do You Love About your job?
Meeting new people, looking at new businesses, and understanding and discussing new requirements. Even in a relatively normal week, no day is the same, its always different and presents its challenges. I could not cope with a job doing the same thing day in day out.
What Kind Of Skills Do You Need To Be Effective In Your Role?
One of my early and rather wise Sales Directors once told me "We have two ears and one mouth so that we can listen twice as much as we speak." This quote is attributed to Epictetus (not my then-current Sales Director), a Greek philosopher who spent his youth as a slave in Rome before gaining freedom. However, it does sum up what I think is the key to getting the best from people and doing my job.
Which Companies Have Impressed You During The Pandemic?
There are quite a few businesses that have been "reluctant beneficiaries" of the pandemic due to their business's nature and the ability of those managing. However, this does not necessarily make them impressive. The companies that have impressed me have had to change how they operate. They have had to thoroughly review, revise how and why they work, and make it work for them whilst taking care of their customers and employees.
What Are Your Favourite Tools and Techniques To Help You Get Your Work Done?
Zoom and Teams have replaced phone calls and face to face for the time being. I think Zoom and Teams will be relevant and will continue to be used once we can all mingle again. Face-to-face will return in some form; home working will remain, and I believe it will be the new standard for most people. Offices will change in their role apart from the very few professions that cannot 'work from home'.
Email is essential but keep them clean and clear as they can be harmful, also don't assume people read them! They say that occasionally you should pick random words, sentences, or paragraphs and hit delete. Did it matter? Did it change the narrative? Don't rush things out as if your comments can be perceived differently. Think before you click (how often have you not done that!).
Have You Made Any Changes To How You work With Customers?
As a forward-thinking business and one that had many of the things to react quickly and efficiently in the pandemic in place, we have managed to work with the customers well during the last ten months, without losing too much by not meeting them face to face. It's taken a bit more work, formality, process and concentration to ensure that.

The significant change – "business clothing". Not sure I have seen anyone in a suit for at least nine months! Not sure I would fit in mine!

I'll leave you with a question: - When did a "hoodie" become appropriate business attire? Does what you wear still have a bearing on how you are seen as a professional?
---------------------
About Formulate
Formulate - a Kainos company are leading UK and European partners for Workday Adaptive Planning. We build and improve forecasting solutions for existing and new users of Workday Adaptive Planning. Our unique set of business pack solutions, alongside our extensive skills in finance, business and software deliver leading forecasting solutions.