With the ever-expanding role of a CFO it can be easy to lose sight of the core pillars of control that are critical for the success of a business. Are you still in control? Can you confidently answer these 5 questions?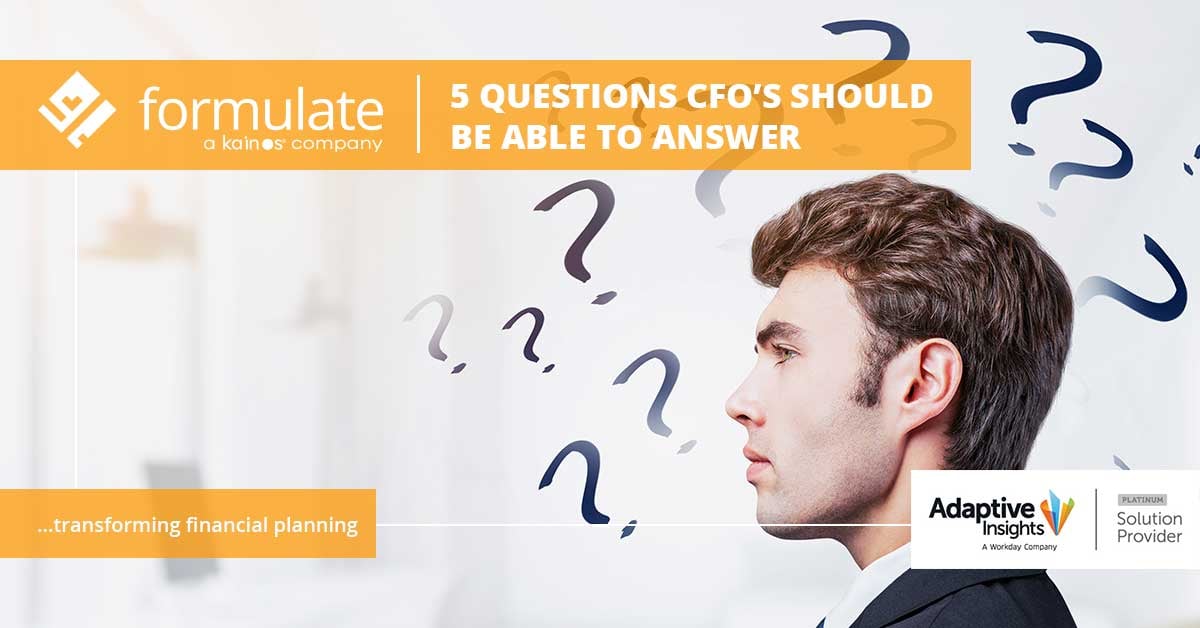 It's not that you need reminding of the importance of these questions, but that other business priorities can bury them. This article looks at 5 key questions and how you can now more easily answer them without devoting large chunks of time away from some of the strategic focus. In fact, the two aren't mutually exclusive, these questions and answers, can help drive the decision making process for the better.

1. What am I most concerned about?
In essence this questions is about what keeps you awake at night. In large part the answer to this question is driven by answer to all four other questions.
Those businesses going through high growth are having to make operational decisions fast which may result in less than perfect outcomes. Costs can spiral and impact cashflow and liquidity putting pressure on your banking relationship, as well as overall financial health. Growth can be triggered by different drivers in the market, and it is imperative to understand what they are to forecast accurately.
Conversely, slow steady growth or even stagnation will also impact financial health. It is then important to appreciate the market drivers and how they are shifting, then manage the financial health carefully to promote more growth and manage costs.
Is there anything we can do to alleviate those concerns?
What is the priority and causing the most pain?
2. what is driving our business?
A driver is the component which makes your business tick. It may not be as simple as a particular cost centre but how a mix of disciplines such as design and marketing promotions impact growth and revenue. Deep understanding of what really drives growth, revenue and profit is critical to modelling the outcomes and identifying potential risks and returns.
Drivers can change over time, they might start as a product or marketing capability and expand into a brand which sells very disconnected products or services - such as Red Bull or Virgin. Multiple drivers will exist in different company entities which again is a changing landscape.
Follow up questions:
Which is more important at this stage: revenue growth, or market consolidation?
If something were to go wrong, where could we tighten our belts financially?
3. What is our financial health?
One of the most significant reasons why some businesses fail while others succeed is due to the difference in ability to mitigate risk. That makes risk management an integral part of the role of a CFO. You should be on top of upcoming shifts in legislation, potential changes in the broader economy, as well as adjustments within your industry.
By asking this question, you are ensuring the board has this covered, so concerns can be properly discussed and mitigated early. Higher external funding and equitable shareholding means businesses can collapse as fast as they rise. Unforeseen risks, are for finance to spot, don't let your business falter because you haven't considered them.
Using more sophisticated modelling tools will provide an instant view of potential shifts in the market, from interest changes to exchange rates, new regulatory costs or a hike in wages and materials. Having 'what if' scenarios for many eventualities at your finger tips will shorten the risk and provide time to avert them.
Follow up questions:
What would be the effects on our business should this risk impact us?
What would you suggest to reduce the potential damage?
4. Are we liquid and are our investment/ borrowing relationships sound?
The ability to generate cash is what keeps a business secure. The flip side of this is the relationship with your bank or equity partners. For this reason a CFO's role is as much about investor, as it is about internal relations.
Good information in the form of financial reporting is critical to keeping investors and lenders onside.
Strong forecasting will enable you to see your cash position alongside your balance sheet and P&L. Businesses that haven't access to this level of information driven by actuals is in an inherently weaker position than its competitor who has.
Showing investors that you have stress tested assumptions and market shifts as well as considered and mitigated risk, evidences good stewardship, and will keep them on side as well as build trust for the future.
Am I talking to my investors enough?
Can I report our position to them today?
5. Are we able to operationally manage our growth? or what is impacting our market position?
As companies grow operational considerations and processes can be stretched which demands new structures and investment. Finance need a deep understanding of operational activities in order to ensure the business stays competitive and good investment decisions are made.
Acquisition is a growing trend, yet operational it can impact hard on systems and processes. Having a view to how to manage this will ensure companies avoid a dip in revenue growth rather than the rise the market or investors expect to see.
At the same time, understanding trends in the market and modelling how these will impact the business allows for better planning and decision making, you can't avoid an accident if you can't see it coming.
What is our biggest operational challenge?
Am I testing our strategic decisions against financial metrics?
How to ensure your questions get answered
The common thread in these questions is for CFO's to have a handle on the information which can drive decision making. Greater flexibility and speed in forecasting and the power to model against multiple drivers to ensure a completeness of information. No one can analyse risk without real information, everything else is conjecture, which has got many a long way. However now there are so many variables to consider, the tools needed to build multiple scenarios and integrate many data streams exist to make this possible.
Added to that reporting and communicating risks as well as providing the relevant data to those investing or decision making is core to the CFO's role.
With so many other competing demands on the CFO's time, without the right forecasting and financial planning tools, a CFO is running handicapped.
Take a look at Adaptive Insights and change your view, so you can start asking the questions you want to and get the answers.
---
About Formulate
Formulate - A Kainos company are leading UK and European partners for Adaptive Insights. We build and improve forecasting solutions for existing and new users of Adaptive Insights. Our unique set of business pack solutions, alongside our extensive skills in finance, business and software deliver leading forecasting solutions.